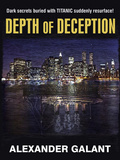 *****
A journey on the waves of time
The 2012, in addition to being the year of the end of the world predicted by the Maya, is also the centenary of the sinking of Titanic. As a consequence there has been a widespread tendency among authors to write novels that somehow are based on this event.
Having always been fascinated by ships (not just those that sink), I could not help but download on my Kindle some of these novels, which I am now reading. The first that comes to me is actually "Depth of Deception" and I was pleasantly surprised.
The plot between realism and suspension of disbelief is built in a masterly manner. The author's style is very direct, which really facilitates the reading to non-native speakers, but by no means banal. Faced with the impossible story of a woman who seems to have traveled through time from the night of the tragedy to this day (in fact the 80s), my taste for this kind of fantastic was immediately awakened. I wondered how the author could justify something so absurd, that page after page seemed to correspond to reality, and at the same time let coexist of a plot so full of plausible and realistic details. Curiosity, combined with the addictive rhythm of the narrative, has prompted me to get in very little time (I was forced to a stop only because of a vacation where I did not want to take my Kindle) to the surprising ending, which in my opinion is perfect. It would indeed be very easy to mistake this very essential part of the book and ruin it completely, but Alexander Galant has not done so.
It is a reading that I recommend to lovers of stories full of mystery, but who do not disdain to let go sometimes to the simple acceptance of the inexplicable.
Really a great book.
Depth of Deception (A Titanic Murder Mystery)
on Amazon.com.