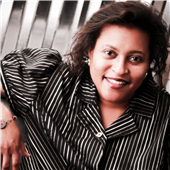 Tracy Woody
Time ago I dedicated a post in my Italian blog to
Tracy Woody
, a great artist from USA and very good friend of mine here on the web.
I'd like to talk about her in this blog, too.
Tracy comes from North Carolina, but thanks to the web her music spread worldwide in a very short period. He is present in many music communities, such as
Jango
,
Reverbnation
and
Uplaya
. Her EP's "
Your Love Remix
", "
Sweet Beat of Love
" and "
Light of Love
" are characterised by powerful, emotional and vibrant tracks, which reflect the beauty of her unique voice. In particular "Your Love Remix" marries an almost religious style which arises from the vocal power and which can be found also on "
Nothing Can Come Close To You
".
Thanks to her music Tracy received several international acknowledgements (a nomination for a
Hollywood Music in Media Association Award
, a nomination at the
House Of Blues
, Best Artist of the Month January 2012 on
De Starliner
Radio in the Netherlands,
UK Songwriting Contest 2011
,
Platinum and Silver Auddy Trophy Award
, Artist on the Rise on
Relix Magazine
,
MusicBoard Magazine
). Casting Directors and Talent Agencies have expressed interest as well.
She is currently involved in
Hollywood Music in Media Association Showcases in Raleigh
, for scheduling shows in the next months.
Tracy is ecstatic, thankful, and grateful for all the opportunities and consideration of her artistry. The buzz around her is already there for all to see. With the release of the "Sweet Beat of Love" CD and "Light of Love" EP's as well as "Your Love Remix" single that buzz continues to grow.
Tracy Woody has also a focus on supporting organization that assist in relief opportunities that support families, women, children, and the community worldwide.
If you wanna know more about her, check her official website,
www.tracywoody.com
, or follow her on
Twitter
,
Facebook
and
YouTube
.
For information of Tracy Woody and possible collaborations, e-mail
C. Harris
at
LTC Records
.
Her EP "
Sweet Beat of Love
" is also available as
CD
on
CD Baby
.